Thank you all for the super kind comments in my post from yesterday.
I was all set today to go out there with a positive attitude and explore Beijing, but it is so incredibly hot... I couldn't do it. When you step foot outside you can literally feel your skin burning! Its like an oven. I haven't left my house all day and it
pains
me, because today the sky is blue blue blue, and there is not a cloud (err, a pollution cloud?) in the sky. I'm sad such a beautiful smog-free day had to be so hot.
What information did weather.com have for me? Just how how IS it in Beijing today....
Definitely
not
my imagination. It is too hot for anything other than sitting in my house watching episode after episode of United States of Tara, obsessively checking Sephora's website to see if a new palette I want is in stock yet, and talking myself out of going to the gym
yet again
. Oh, and looking at these super cute pictures from an article in today's paper about the insanely high temperatures all across China lately!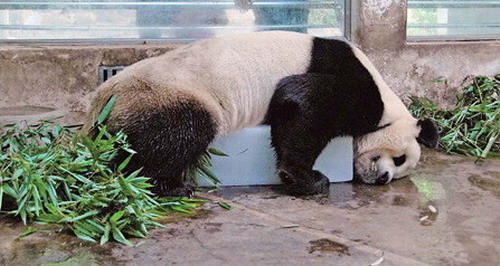 A Panda in Wuhan desperately trying to stay cool by laying on a huge block of ice. Poor guy!



so yes. Its hot. very hot. And the final two episodes are calling me...
Steph